Rounding off a three-fer in Astronomical events of late is the June 5th 2012 Venus transit across the face of the Sun.
Included here is an approximation of what you should see viewing the sun from Lawrence, KS at approximately 7PM local time and an accompanying video of the transit progress from 5PM local time through sunset.
Transit Image: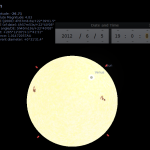 Video: June 5th 2012, Venus Transit – Lawrence, KS
While this event may not seem as spectacular as the previous two eclipses (one solar on May 20th and one lunar on June 4th) this event is actually more significant because it is the very last time Venus will cross the face of the sun in our lifetime (unless we really have some astonishing medical accomplishments in the next 30-50 or so years)! The next transit will happen in the year 2117!
I'm also including a site with various viewing information here: http://www.transitofvenus.org
Again, please be safe when viewing this event. You should take the same precautions as you would for a solar eclipse or any other solar viewing event. The site above has a good section on eye safety so please view it in leiu of me regurgitating it here.
Happy viewing and be safe!