Viewing of Comet ISON should begin to be possible for U.S. observers beginning tomorrow morning. See below for chart images that may provide additional help in locating the comet.
You'll be looking for a fairly bright object in the Eastern sky right before dawn. From experience, I recommend being outside with a very clear view to the Eastern horizon about 15 minutes before the comet is ready to come above the horizon. The first thing you'll probably see is the Sun lighting up airplane contrails as it gets closer to rising. Don't mistake these for comet tails! Comet ISON (even though it's traveling away from the Sun) will look like it's pointed at the sun (tail shooting up into the sky toward the zenith.
For the midwest (and probably transferable to the rest of the U.S.) you should expect the comet rise time to be around 6:40 AM local time. Since it will cross the horizon at that time, I would expect it to become visible sometime between 6:55 AM and 7:10 AM local time. Comet ISON should be about 7 degrees above the horizon at around 7:20 AM local time. Keep in mind, this may vary due to any number of factors of your locale but should be close. If you've not seen the comet by around 7:25 AM local time, there's a good chance it's not going to be visible as the Sun's brightness will drown out the ability to see ISON.
I have added two images from Stellarium which show the sky configuration at 6:39 AM and 7:20 AM respectively. I have also added the latest pictures of the Moon, Jupiter, Mars and a sunrise to the album for November 29th.
Comet ISON position at 6:39 AM CST in Lenexa, KS (Kansas City Metro)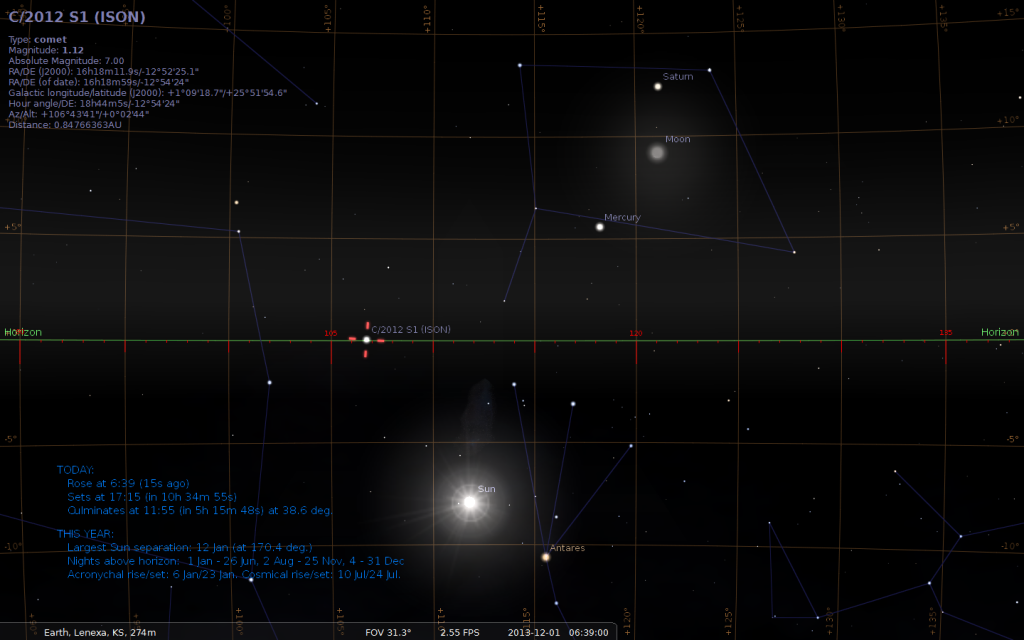 Comet ISON position at 7:20 AM CST in Lenexa, KS (Kansas City Metro)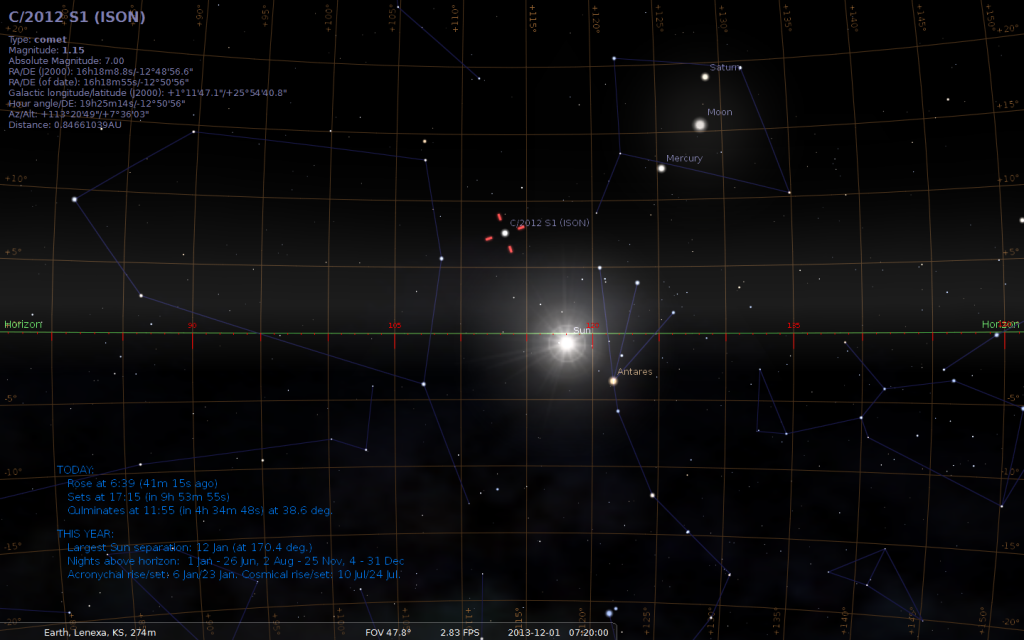 Happy comet hunting everyone!