Comet Q2 is shaping up to be a nice little gem in the night sky. Unfortunately, my local skies have been cloudy and rainy since my initial post so I have not been able to snap a few local images. However, I managed to get another with the BRT on January 2nd which turned out quite nice. I've included it with this update below. While it's not very clear without over exposure, there is a thin tail coming off the comet that, in this image, protrudes toward the upper right corner of the frame.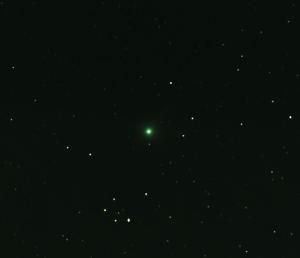 For general viewing tips, please see my other article here: Holiday Comet 2014
Below you'll find a sky chart for where you can find the comet over the next several days. Be sure to check it out if you can!