Unfortunately for me, Comet ISON has been extremely elusive. Inclimate weather has been passing through the midwest leaving only a few days where observing might have been possible, albeit with low temperatures. I made one serious attempt to capture a glimpse of the comet and photograph it using my 6" refractor but unfortunately the outting was riddled with technical problems and yielded nothing more than very cold hands.
However, the comet still holds serious promise…
As you can see by the chart included below (courtesy of Skymania), the comet is getting closer and closer to the horizon for it's Thanksgiving rendesvous with the closest approach to the Sun that it will make. While the comet is ellusive, if you get the opportunity to be up an hour to 30 minutes before dawn with clear skies over the next several days you may be able to catch a glimpse of it with the naked-eye near where sunrise will occur. You should look for a fuzzy, bright, tail pointing straight up towards the zenith.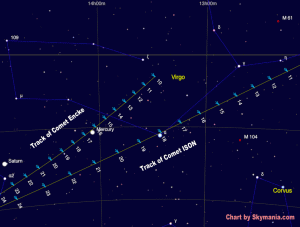 This comet is special in a couple of ways. The first is that it came from the Ort cloud, a group of comets and various debris left over from the formation of the solar system. This area is 2,500 times further away from the Sun than Pluto which means it started traveling toward the Sun over a million years ago! This also means that it won't be back anytime soon, probably ever. Now, assuming the comet makes it around the Sun over Thanksgiving, which is not certain right now, there is expected to be some spectacular viewing of it between Thanksgiving and Christmas as ISON begins its very long journey out of the solar system.
Keep an eye out for pictures and updates on the comet. I'll be posting relevant information and pictures as I take them.